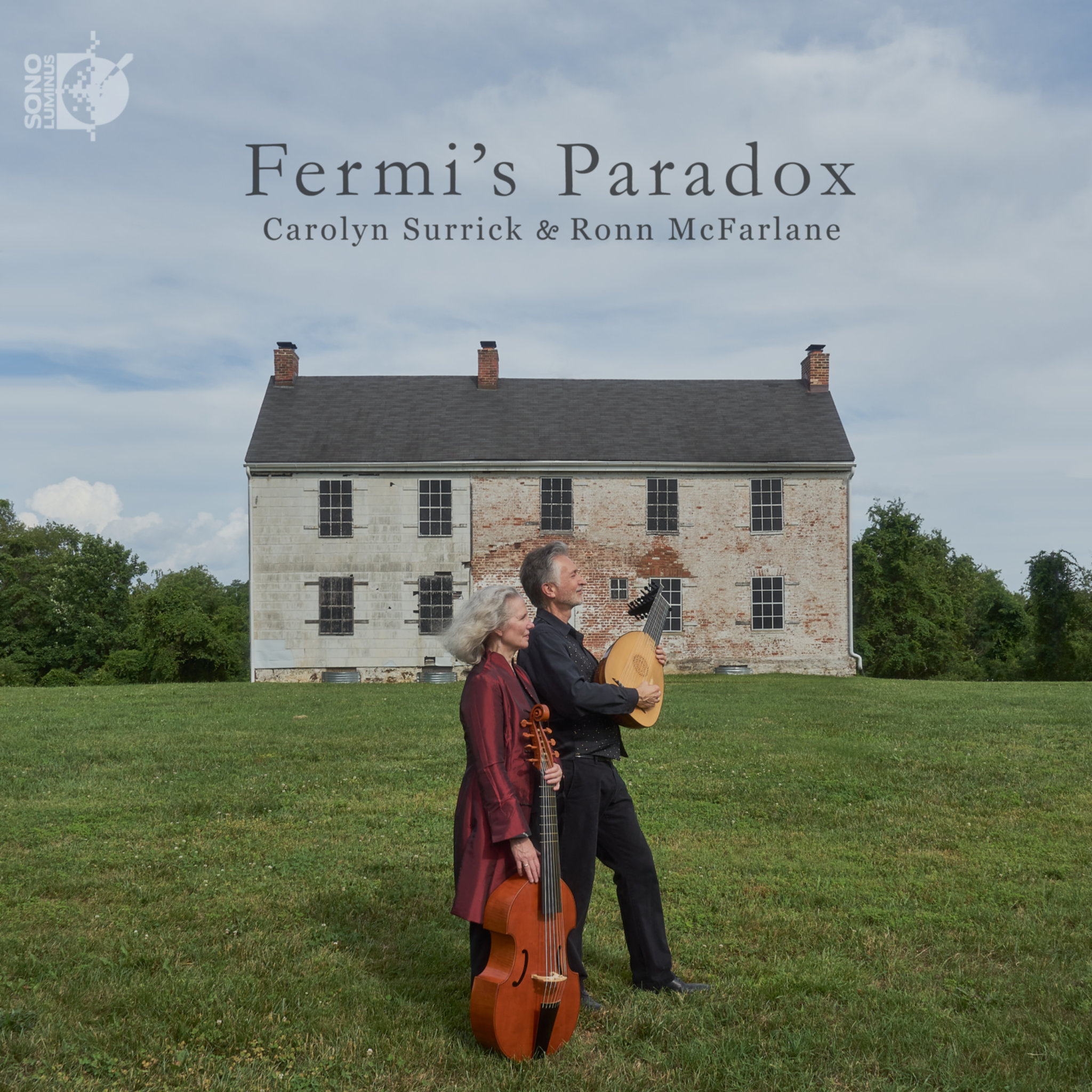 Fermi's Paradox
We had all the time in the world. We had three months. Our Saturday rehearsals turned into Saturdays and Sundays. Week after week we scoured our memories, stacks of books, piles of sheet music, and beloved recordings for pieces we might include on this CD.
Ronn brought tunes that have been part of his life since he was a young man – music he loves and had arranged for the lute. He arranged them again for the lute and viola da gamba. He asked, "Do you know Little Martha? It was originally recorded by the Allman Brothers." I did not. Blackwater Side is a traditional Irish tune arranged by Bert Jansch. John Barleycorn fit perfectly with She Moved Through the Fair, an Irish tune I had never heard. It was a new song to be sung by my instrument. We both love Turlough O'Carolan and neither of us had ever recorded Planxty O'Rourke, Second Air with
its mysterious blend of Irish and Italian sensibilities (tunefulness and raw emotion) so that made the short list. The Rose of Raby had been on my mind for years. This was the time and place.
It seemed ridiculous to even consider a recording for lute and gamba without something by John Dowland. It turned out just one of his compositions was for the two instruments – so we recorded it. If there's Dowland, then there must be Marin Marais, one of the greatest composers for the viol who ever lived. If the gamba is going to sing a traditional Irish tune, why not a recitative and aria by Telemann? If she's going to sing something by Telemann, why not an Ave Maria, written by Gounod and based on thematic material belonging to Bach?
If we loved it, the answer was, "Yes."
As the pandemic increased in its fierce destruction, I sat alone, practicing. Some of us play from memory, some with the music in front of us. One night I began Amazing Grace. I had always played it in G major – there are lots of double stops easily available (playing more than one string at a time) and the instrument is super resonant in that key, but this time I tried
C major. There was a kind of openness and freedom that had been hidden from me. I've played that piece for decades, but I had never heard it like that before. I sent a recording to Lindsey. I called Ronn. We had to include it.
I worked on the Bach harmonization of O Sacred Head using all the resources of the instrument – and then we added the lute. We paired another hymn, Come Thou Fount with the Swedish tune Sjungar-Lars Visa and fell in love with the two together.
Ronn and I both compose, usually inspired by people or places. His Trinity Grove and Daniel's Chaconne are both tributes to dear friends. For me, The Last Day speaks of the weight of deep losses. And then, there's Fermi's Paradox. I love this story.
The brilliant Italian physicist Enrico Fermi was walking with friends at work one morning and said something like this, "It is mathematically impossible to imagine that there is not intelligent life out there in the universe." When they were sitting in the cafeteria later that day, out of the blue, he said, "So, where are they?" All of his friends knew exactly what he was talking about.
Tracks
Fermi's Paradox (2018)
She Moved Through the Fair / John Barleycorn
Gånglåt efter Hamare / The Last Day (2020) / Gigue la petite (1714)
Blackwater Side
The Rose of Raby
Amazing Grace
Daniel's Chaconne (2013)
Trinity Grove (2019)
Cantabile (TWV 41:e5) / Recitativo / Arioso
Dowland's Adew for Master Oliver Cromwell
O Sacred Head (1601)
Come Thou Fount (1758) / Sjungar-Lars Visa
Little Martha (1971)
Planxty O'Rourke, Second Air
Ave Maria (1853)