Grammy-Nominated Lutenist Ronn McFarlane to Perform With Ensemble Ayreheart
September 23, 2015 by Christ Church Easton
The Christ Church Concert Series begins a new season this Sunday, September 27 at 4:00 p.m. with Grammy-nominated lutenist Ronn McFarlane and his ensemble, Ayreheart.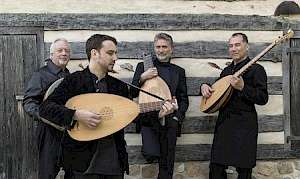 Performing as a quartet (vocals, two lutes, colascione and percussion), Ayreheart will present "Will You Walk the Woods so Wild," a program of Renaissance music from the British Isles. Music of John Dowland, William Byrd and John Johnson will be featured, as well as old ballad tunes from England, Scotland and Wales.
Described by the Washington times as "…some of the most ravishing lute playing to be heard anywhere," this is a concert not to be missed. The Wall Street Journal described the acclaimed artist in this way: "McFarlane, for his part, is a master lutenist who's seemingly distilled countless influences and yet maintained the uniqueness of his instrument. He played 450-year old John Dowland pieces as well as his own compositions with a casual intensity that belies his rhythmic style. And anyone impressed with the dexterity required by speed rock ought to see what Mr. McFarlane does when he flashes his fingers across the fretboard of a stout lute. Little wonder his performance received a standing ovation."
Sunday's concert will be held in the performance hall at the Academy Art Museum located directly across the street from Christ Church. A freewill offering will be received, and light refreshments will be served following the concert. This series is sponsored in part by the Talbot County Arts Council and the Maryland State Arts Councils.